Jaipur City
History:-The history of Jaipur dates back to the year 1727 when the city was discovered by the then king, Maharaja Jai Singh II. The king shifted his capital to Jaipur from Amber due to the increase in population and reduction in the water levels.

Jaipur prides itself on being the first planned city in the country as Maharaja Jai Singh II was deeply interested in the designing and construction of the city. Since the Marathas were constantly attacking and trying to take a reign over the city, the king was very skeptical about the security of Jaipur. Thus, with the assistance of Vidyadhar Bhattacharya, a Brahmin scholar of Bengal, Maharaja Jai Singh II started the construction of Jaipur in 1727.

It took around 4 years to build the entire city and huge buttressing of walls was created to ensure the safety. Constructed on the pattern of Shilpa Shastra, the Indian Architecture, the city of Jaipur was divided in nine blocks wherein there were two state buildings and palaces. The rest of the seven blocks were given for the public use.

The city was referred to as 'pink city' only in the year 1853, when the whole city was painted pink to welcome the Prince of Wales.

Culture:-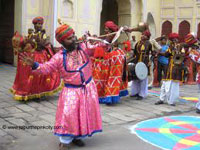 Located in the eastern Rajasthan, this city of Jaipur is popular of the amazing forts and stupendous palaces. This royal town has magnificent architecture and is the first planned city of India. The buildings here are made with pink-painted sandstone which brings it the name of Pink City. With fantastic attractions all around the city, it invites tourists from all over the world. Jaipur's rich cultural heritage is displayed in the traditions, customs, lifestyle, art and architecture of this place. In fact the best understanding of Jaipur's culture can be attained through its art, music and architecture. The splendid monuments of Jaipur deserve a visit. Those huge fortresses of Mughal and Rajput reigns, the Hawa Mahal, Amber Fort, Jal Mahal aptly describe the culture of the city. Jantar Mantar of Jaipur, the largest of all five similar monuments is an observatory basically, which is indeed an architectural spectacle.

The people of this lively town are friendly and warm. Their colourful outfits and unique jewellery are the part of their culture displayed in a flamboyant way. They love to dance to the tunes of Rajasthani folk songs. Famous dances of Jaipur include Ghoomar, Chari where the dancers got to dance on a pot with a lit diya on their head. Traditional instruments like Sarangi, Ektara, and Jhalar are also played while singing folk songs. Food or the local delicacies of Jaipur also reveal the culture of the city. Jaipur's utterly delicious mangodi, papad, khichdi, buttermilk, sohan halwa have no match. Also famous for its handicrafts, Jaipur has markets flooded with handicraft items. Carved silver jewellery, kundan as well as meenakari jewellery, ivory carved sculptures, wood work and leather goods, are all so finely made that they would undoubtedly catch your eye. Known for blue pottery, miniature paintings and traditional clothes with work of bandhni, zari and zardosi, are certainly the best examples that depict rich culture of Jaipur.
Travel within city:-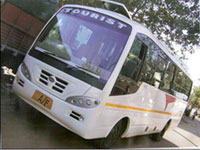 Jaipur is one of the most popular tourist destinations in India, and the city is very well planned out in all levels, including transportation facilities. There are public transport buses that tourists can opt for while in Jaipur, and there are auto rickshaws, cycle rickshaws and taxis available for commute too.
Bus:- The cheapest way to travel around Jaipur would be through the public transport RTDC buses that ply to all major areas in Jaipur. Sightseeing bus services are available too, and you can opt for full day tours, half day tours and night tours. You can book your sightseeing trip through these buses online in the Rajasthan Tourism Department Corporation website. Bus charges will range from Rs 150 to 300 for sightseeing trips, depending on the class of travel opted for.
Taxi:- Taxis in Jaipur are very comfortable, and they are available from airports, bus stands and the railway station. Taxis run on meter, and charges will hover around Rs 12 per kilometer.
Pickcity Radio Taxi- Ph: (+91) 141 220-5000
Jain Taxi Service- Ph: (+91) 141 229-2064
Cycle Rickshaw:- Cycle rickshaws charge anywhere from Rs 10 to 30, but this mode of transport is very slow.
Tempo:- Auto rickshaws in Jaipur are a good way to travel around the city, and you can rent out an auto rickshaw for Rs 350. Auto rickshaws do not specifically run on the meter, so you can get a sightseeing slip from the police department and travel around visiting all the locations in an auto rickshaw at a predetermined price. Auto rickshaws are a safe way to travel within the city at night, and there are no special night fares.
Hotels:-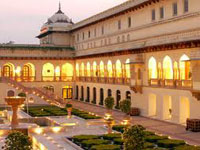 You can find 327 hotels in Jaipur under following categories:
Jaipur Budget Hotels (49): Surbhi Palace, Hotel Classic Holidays, Hotel Shalimar
Jaipur Medium Hotels (237): Rawat Garden View Hotel, Hotel Sinjara, Hotel Costarica
Jaipur Luxury Hotels (41): Alsisar Haveli, Park Prime, Castle Kanota
Jaipur Hostels (2): Cutie's Girls Hostel, MK Hostel
Jaipur Homestays (2): All Seasons Homestay Hotel, Rawla - Homestay
Jaipur Resorts (14): Cambay Spa & Resort, The Woods Villa Resort , Hotel Nahargarh Haveli & Resorts Pvt Ltd
Jaipur Guesthouses (2): Chit Chat Restaurant & Guesthouse, Vinayak Guesthouse
Jaipur Heritage Hotels (7): Chomu Palace - Luxury Heritage Palace, Ratan Haveli A Heritage Hotel, Royal Heritage Haveli
Jaipur Boutiques (4): The Saneer Boutique Hotel, Hotel Four Luxury Boutique, Divine - The Boutique Hotel
© Copyright 2013 - All right Reserved