Chennai
Raintree Hotel (St Mary's Road), Chennai
At The Raintree Hotels, we understand the essence of personalized service that helps us take care of you in all ways possible. We believe in finding the right balance between luxury, style, comfort, service and your happiness. The hotels offer multiple dining options from traditional to international cuisines and everything else that helps us make sure that you are well-taken care of.
We make sure you get the best of flavors and a perfect ambiance to enjoy them because we believe the way to live the good life is through good food. The restaurants at The Raintree serve sumptuous dishes that come alive with South Indian, Asian and Continental essence. The rooftop restaurant, bar, and lounges inspired by the local cuisine provide a mesmerizing experience with the touch of international flair.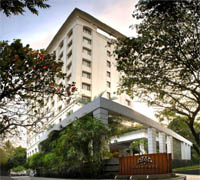 The Leela Palace, Chennai
The Leela Palaces, Hotels and Resorts, from the very start, has been on a continuous journey to delight every guest offering memorable and magical stays that reflect the essence of India. The signature promise that binds the group's underlying philosophy is 'Atithi Devo Bhava', or 'Guest is God', as laid down in the ancient Indian scriptures. And the commitment to stay true to this guiding principle has resulted in outstanding experiences for our guests.
There are several specialty dining options here: Spectra (all day dining); Jamavar (signature Indian restaurant); China XO (Chinese restaurant); The Library Bar; The Cake Shop and The Lobby Lounge.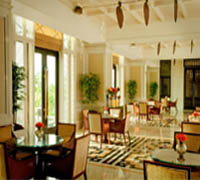 Trident Hotel, Chennai
An oasis of warmth and luxury environs Trident, Chennai is amongst the best hotels in Chennai. This luxury resort welcomes you with its elegant, low-rise design spread over five lush acres of verdant gardens. The 167 rooms and suites, tastefully appointed in muted and earthy tones, combined with handcrafted furniture and convenient amenities, are designed to make you feel at home during your stay with us.
Trident, Chennai also offers a range of wellness and luxury recreation facilities. The Trident Spa, with its choice of rejuvenating therapies, is a great place to unwind while staying at the hotel. A few laps in our swimming pool will help work up an appetite, which is just as well, as our restaurants offer you a choice of the best local fare as well as international cuisine.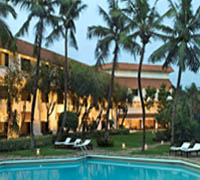 Green Meadows Resort, Chennai
Green Meadows is an enchanting living abode of architecture, art, and tradition. We have a unique story originating from a fantasy that eventually evolved into a vision to recreate and preserve a rich heritage. Be it a Corporate day out, the family gets together, Conference, Birthday, betrothal, or a Wedding, Green Meadows offers an opportunity to experience the nostalgic old world charm associated with the heritage of Kerala. It also is an urban haven where style, design, décor, and technology are whisked amicably to provide an unforgettable stay.
With a total of 22 rooms belonging to 3 categories spread out in perfection, embracing the enticing beauty of the lush green meadows, it is the ideal destination to rejuvenate your soul and mind.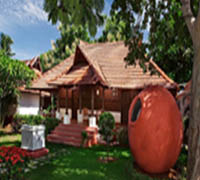 © Copyright 2013 - All right Reserved